Callable Bonds and Convertible Bonds
Effective interest method amortization software
Designed for



Bond owners, purchasers, investors
Calculate all of your bonds at the same time. Any month. Any year.
Municipals, agencies, corporate, notes, bills ....
Premiums. Discounts. Original issue discount for applicable bonds..
Both purchase/market discount and OID discount amortization



CPA, accounting firms


Import, calculate, audit and report client files



Financial advisors. Trust departments.


Manage, import, calculate, export client files



Bond issuers

Software to amortize bond issuance costs


Turn a simple Excel file like this .....
.... into a powerful bond reporting system in just a few seconds.
• Effective interest rate calculations
• Premium amortization
• Discount accretion
• OID amortization where applicable
• Yearly totals
• Monthly totals
Applicable for


• Fixed rate bonds
• Zero rate
• Convertible
Including calculation of a constant rate
• Callable - with a call price
• Callable - without a price
• Early call, redemption
• Partial call, redemption
• Partial sale
• Variable rate, step bonds, adjustable, floating rate
• Rate changes due to any reason
Recalculation of the effective interest rate
• Reductions to par for any reason
Proportionate recognition of premium or discount



Calculate


• Dozens, hundreds, thousands of bonds
• Effective interest rate for each bond
• Premium amortization
• Discount accretion
• Cost basis, book value
• Coupon interest
and for applicable bonds
• OID Original Issue Discount amortization
• Purchased/market amortization minus OID

Software that makes it easy to


amortize dozens, hundreds, thousands
of bonds using the effective interest method ....
• Municipal bonds, agencies
• Corporate, government bonds
• Notes, bills
• Virtually any premium, discount instrument
• Multiple files and portfolios



Instant amortization schedules


• One bond
• All bonds at the same time
• Portfolio totals
• For a month
• For a year
• Any month. Any year.









• Import bond files
• Calculate effective interest rates
• Calculate premium and discount recognition
Any month
Any year
• Calculate OID recognition for any month, any year
• Generate individual lifetime schedules for any bond
• Export results to Excel
• Hundreds of bonds
• Thousands of bonds
• One file. Multiple files.


Less than $7.50 a month

Calculations at any time for desired period


• Effective interest rates
• Premium amortization
• Discount accretion
At purchased/market basis and, if applicable,
Original Issue Discount (OID) amortization with
Net of Purchased/market Discount minus OID
• Interest earnings at the coupon rate
• Current period
• Prior periods
• Future period projections
• Monthly totals, quarterly, other multiple month totals
• Yearly totals (calendar, fiscal, tax)
• Income and expense for the period
• Remaining premium and discount balances
• Cost basis, book value
| | | |
| --- | --- | --- |
| | MONTHLY CALCULATIONS FOR ANY MONTH | |
QUARTERLY CALCULATIONS WITH
GROUP: CALCULATIONS WITH TOTALS BY USER DEFINED GROUP CATEGORIES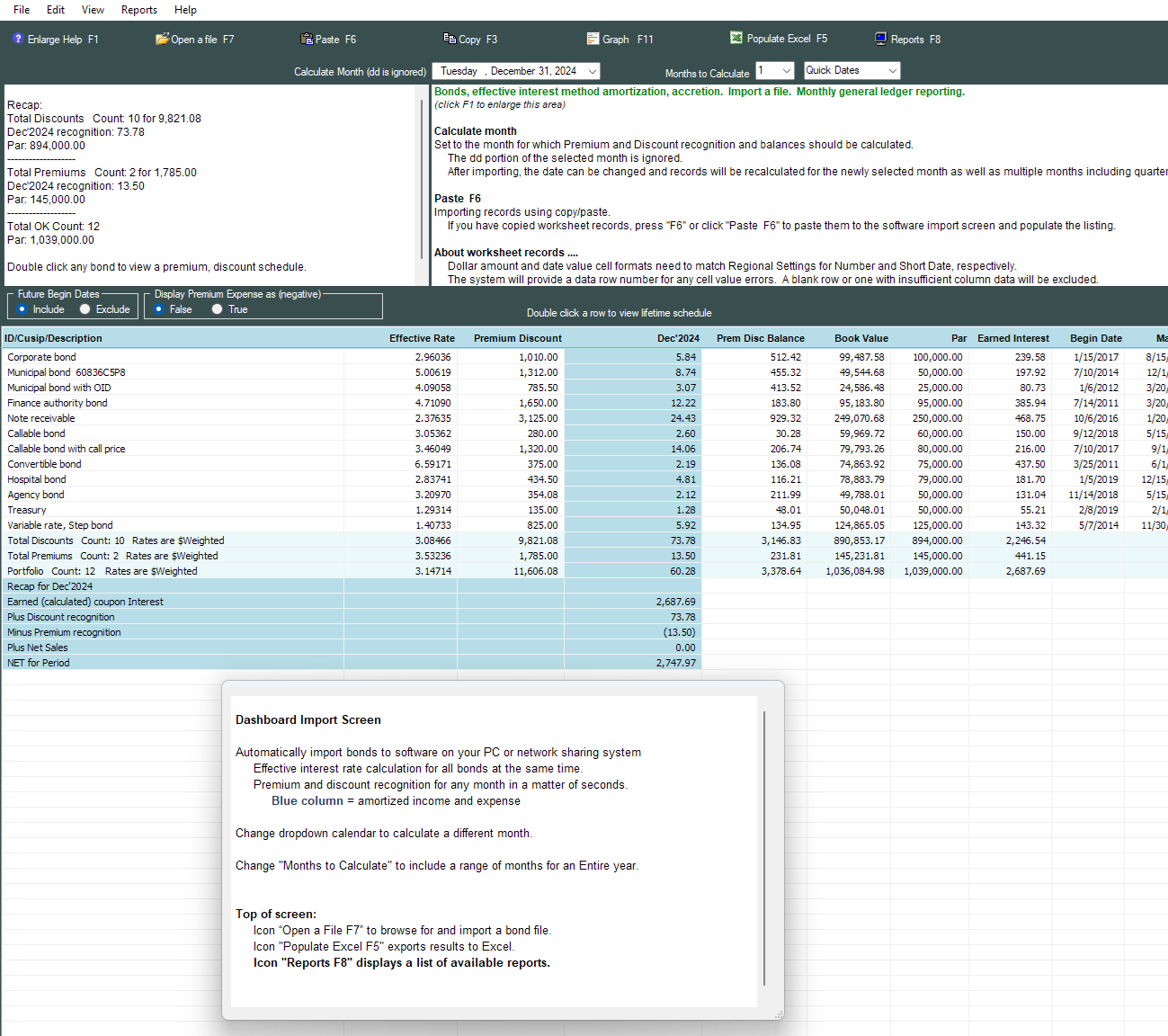 Client testimonials ....

Thanks a lot!
This program has just made my life so much easier.
I can finally stop adding up all of my amortization schedules!
Atlanta, GA

We installed your software and just used it for the first time.
I can't believe how much work it will save us each month.
What used to take hours is now done in a matter of minutes.
Your product performs exactly as advertised!
Houston, Texas

Thanks.
Your customer service is fantastic!
Have a great week.
Redmond, WA

Our outside accountants just completed their audit.
This is the first year we've been using your software AND
the first year we received a clean audit report.
Long Island, NY

I'm a partner in a small CPA firm.
We were recently engaged to audit municipal bonds issued by a local agency.
Bond discounts needed to be recalculated using the effective interest method.
Calculations with annual reports had to be provided for each of the past seven years.
I can't believe how easily your software allowed us to finish the entire job in such a short period of time.
Southwestern US







Scroll down for price page and a free demo










Recognition methods:
• Level yield
• Effective interest method under FASB 91
• Constant yield
• 360/365/366 days in a year basis

For purchasers, issuers and service providers
• Purchased bonds - original issue and secondary market
• Issued bonds
• Amortize your own bonds
• Amortize your client bonds (many of our clients are auditors and financial advisors)
View, print, export
• Premium recognition, balance, cost basis book value
• Discount recognition, balance, cost basis book value
• Interest at the coupon or other rate
• Totals for all bonds
Interest at the coupon or other earnings rate.
Two versions available:
• Interest is accrued:
Coupon or other interest is calculated for the desired month, range of months or entire year.
If calculating, say, for the month of March, accrued interest is one month, March only.
• Interest is on a cash basis:
Coupon or other interest is based upon cash received. Purchased interest is also tracked and reversed.
If calculating, say, for the month of March, cash interest might represent earnings for 6 months.
Also amortize:
Bond issue costs
Bond acquisition costs
Rate changes
Recalculate effective rate over remaining term due to a rate change
Calculate coupon interest over remaining term at the new rate
Par reductions
Accelerated premium, discount recognition for reduction amount to par due to
Partial sale
Partial recall
Partial redemption
Other reduction to par
Also includes early sale, redemption, call date to recognize deferral balance in full
Generate group and portfolio totals
Audits: Annual and other fiscal period reporting for audit and examinations
Schedules: Automatically generate lifetime bond amortization and accretion schedules











| | |
| --- | --- |
| | Price and free demo .... |


Click to open and view Price page


Free demo

Price page contains a link to
download a zip file containing the software and sample bonds.








Currently using another method? Another system? No system?
The software can recalculate premium and discount balances for current and prior periods.
Or, the software can preserve your current premium and discount balances.
No book value, cost basis adjustments necessary.
Try the free demo available on the Price page, below.
See how easy it is to amortize your own premium and discounts.





• Business, financial institutions, admin services, insurance agencies, other bond purchasers
Automatically import Excel bond worksheets to the software on demand
Calculate effective interest rates
Premium amortization - effective interest method
Discount accretion - effective interest method
Interest accruals
Group totals
File totals:
Any month
Any year. Fiscal. Calendar. Or range of months such as a quarter.
Detail lifetime schedules for each bond satisfy audit requests


• CPA and accounting firms. Financial advisors.
Business, government, individual investor clients
Import, calculate recognition for their bond files
Monthly, quarterly totals
Calendar and fiscal year totals
Recalculate a file for prior years
Audit
Due diligence
Straight line vs. effective interest method comparisons
"What if?" questions. Special projects.
Export, archive calculations and reports to Excel
Exclude bonds which were added after a desired calculation time period
Example: A worksheet contains bonds from 2009, 2010, 2011, 2012, 2013 and 2014
When working with the year 2013, you can exclude the 2014 bonds from calculations and view.
Client servicing
Import and calculate worksheet bonds on behalf of a client for any period
Export results and file totals to Excel


• Government, agency bond issuers
Amortize original issue, debt costs
Premium and discount recognition
File totals:
Any month
Any year. Fiscal. Calendar. Or range of months such as a quarter.


• Cash basis module for Individual investors
Generate all premium, discount information required by you and your accountant
Discount income, premium expense, coupon interest, OID Original Issue Discounts
Track, aggregate and report actual coupon interest receipts
Track and clear purchased interest
Net sale proceeds utilizing cost basis accounting














Enhanced option for business ....
General Ledger Posting and Reporting Module includes
• General ledger journal voucher and posting file for premium, discount recognition
Asset and liability general ledger account numbers
Income and expense general ledger account numbers

• Subsidiary listing Trial Balance with totals by each set of general ledger accounts
Income and expense totals
Premium and discount balance totals
Book value totals
For any month, quarter or year

• Interest accruals with journal voucher and general ledger posting file
Accruals can be for a month (period) or
Total accrual from an "Accrue From" date for accrue and reverse operations
Purchasers: Income and receivable general ledger account numbers
Issuers: Expense and liability account numbers

• General ledger posting files for all of the above
Postings can be created for a month, quarter or calendar/fiscal year
Postings have an Undo function to reverse a posting made in error
Postings can be formatted for uploading to any general ledger system

• Bond issuers:
Separate amortization of bond acquisition charges, issue costs



Calculate premium and discount recognition for
• Purchased or Issued
- Municipal bonds
- Agencies
- Corporate, government, notes, bills, debentures ....
- Virtually any instrument having a premium or discount

• Premium amortization using the effective interest method
Amortization for each bond plus a detailed, lifetime schedule
Amortization and balance totals for all bonds with a premium

• Discount accretion using the effective interest method
Accretion for each bond plus a detailed, lifetime schedule
Accretion and balance totals for all bonds with a discount

• Constant yield, effective interest rate calculations under FASB 91

• Coupon rate interest calculation for each bond, plus a total for all bonds
Interest accruals with general ledger posting file

• Calculate
Dozens, hundreds, thousands of bonds at the same time
Monthly. Quarterly. Range of months. Calendar and fiscal year totals.
Current period. Prior periods. Future periods.

• Fixed rate bonds plus

• Convertible bonds
The system calculates a constant rate
The constant rate and effective interest rate determine amortization, accretion recognition

• Zero rate bonds, convertible or otherwise

• Variable rate bonds, floating rate, steps
Calculation of initial effective interest rate
Effective interest rate recalculation with each rate change

• Call dates, with or without a call price
Premium, discount calculations to a call date Cost Basis, Book Value

• Reductions
Bonds with reductions to par, such as a partial sale, recall, paydown
Accelerated recognition of premium or discount balance proportionate to reduction in par

• Existing bonds
Two solutions:
Recalculate existing bonds using original dates
or
Retain current cost basis, book value. Convert existing bonds and balances with no journal adjustments.



Simple to use
Basic information for a bond portfolio is maintained
in one or more Excel worksheets
Par, settlement, maturity, coupon rate ....

Worksheet templates with headers and column
documentation come with the software
Enter bond data and
Copy/paste bonds from existing worksheets
Add/insert new bonds at any time

User defined Group categories to segregate bonds
and provide totals by/for any purpose.

The software automatically imports a worksheet
and performs required calculations
Constant yield, FASB 91 effective interest rate
Premium amortization
Discount accretion and more
Import and calculate dozens, hundreds,
thousands of bonds in a matter of seconds



A single software system provides ....

• Accounting - Effective interest method portfolio calculations and totals for multiple bonds in an Excel file

• Calculator - Effective interest method for one bond at a time

• 360/365/366 day basis



Portfolio NET totals consisting of
Coupon rate interest
+ Discount Accretion
- Premium Amortization
= NET for any Month. Quarter. Calendar or fiscal year. Go back in time. Go forward in time.




Bonds consist of loan packages? View our Omnibus FASB 91 premium and discount amortization software for
• MBS, syndicated packages, LSBO, secondary market, grouped originations, bundled loans, bonds with monthly par reductions and more.


Premium and discount portfolio accounting
• Generate income and expense detail plus totals for:
• Any month
• Any quarter
• Any annual, yearly period - calendar or fiscal
• Historical - view a portfolio as it was at any time in the past
• 360/365/366 days in a year basis at the bond level matches coupon interest basis
• User defined Group totals



Purchased bonds
• Investors, traders, business, institutions, trust departments, client accounting services ....
• Calculate discount income, premium expense on a monthly, quarterly, annual basis for all bonds at the same time



Issued bonds
• Municipalities, taxing districts, corporate .... (amortize bond issuance costs, too)
• Calculate discount expense, premium income on a monthly, quarterly, annual basis for all bonds at the same time
• Amortize original issue, debt issuance amounts, too



Variable rate instruments, such as Steps
• The system calculates a new effective interest rate with each rate change, including mid-month dates
• The system switches to calculating coupon interest at the new rate as of the actual rate change day


Convertible rate bonds
• The system calculates a blended, constant interest rate
Premium and discount recognition is the difference between effective rate interest and constant rate interest
• The system switches to calculating coupon rate interest at the convertible rate on the convertible date


Call Dates
• Premium and discount recognition to a Call Date


Call Prices
• Premium, discount recognition to a Cost Basis Call Price
• Example: Purchase 100,000 at 97 with a Call at 102 and the system accretes 5,000 to a Cost Basis 102,000
• Example: Purchase 100,000 at 103 with a Call at 101 and the system amortizes 2,000 to a Cost Basis of 101,000


Sale or early call, redemption date
• The system recognizes the remaining premium, discount balance in full
• If a Call Price is involved, the system makes all necessary adjustments, including the recapture of any recognized portion of the Call


Partial sale, early call, redemption
• The system accelerates premium, discount recognition by the percentage of: ReductionToPar / Par
• Remaining premium or discount is calculated over the remaining term
• If a Call Price is involved, the system makes all necessary adjustments, including the percentage recapture of any recognized portion of the Call


Reductions to Par
• Accelerated recognition of premium and discount balances for
• Partial and complete sales
• Partial and complete recalls
• Other reductions to Par for any reason



Comply with these FASB, GAAP recognition methods ....
• FASB 91 effective interest method, level yield
Calculates effective interest rates for fixed rate and convertible bonds
Amortization and accretion based on the difference between the effective interest rate and coupon rate
• Constant interest rate method
Calculates constant rates for convertible bonds
Amortization and accretion based on the difference between the effective interest rate and constant rate



Easily account for exceptions arising from ....
• Early calls, redemption (the software recognizes premium, discount balance in full)
• Partial calls, redemption (the software accelerates premium, discount recognition by the call amount percentage)
• Sales (the software recognizes premium, discount balance in full)
• Partial sales (the software accelerates premium, discount recognition by the par reduction percentage)
• Periodic reductions to Par for any reason (the software accelerates premium, discount recognition by the par reduction percentage)



• Purchased bonds
- Held to maturity or trade/sale/early call date



• Issued bonds
- Including issuance cost amortization (for more on this, view our Bond Issue Costs amortization page)



• Fixed rate bonds
and
• Convertible bonds
- Including initial rate of zero
- Convertible rate amortization, accretion at Constant interest rate
- OID bonds
- For variable rate bonds when future dates, rates are unknown, view our Omnibus Variable, Floating Rates software page)



• Discount accretion
- Individual bond level
- File, portfolio totals
- General ledger totals
- Lifetime accretion schedule for a bond



• Premium amortization
- Individual bond level
- File, portfolio totals
- General ledger totals
- Lifetime amortization schedule for a bond



• OID
- OID accretion totals (for more on this, view our Original Issue Discounts OID amortization page)
- Group and track OID with purchased bonds accretion totals
- Compare recognition amounts between OID and purchased
Monthly
Quarterly
Annual (fiscal and calendar year totals)



• Early call/redemption/sale date
- Recognize deferral balance in full as of any date for any reason



• Interest at the coupon rate
- Calculate coupon rate interest and accruals for any period, too
- Supports 360/365/366 day basis



• Generate:
- Premium recognition subtotals
- Discount recognition subtotals
- Accounting reports
- Journal voucher posting source document
- General ledger transaction posting file (supports any chart of accounts)



• Existing bonds
- Preserve current deferral balances or
- System can calculate current balances



• Virtually any premium or discount instrument to be calculated under GAAP, FASB 91
- Municipals
- Corporate
- Government
- Notes
- Bills



Software to
• Calculate FASB 91 effective interest rate for all bonds at the same time
• Effective interest method recognition under FASB 91 for
- Premium amortization
- Discount accretion
- Issue costs - Amortized and tracked separately
- Group totals
- File totals
- Remaining balance and book values
• Accounting recognition periods:
- Monthly
- Quarterly
- Other multiple months
- Annual: Calendar or fiscal year
- Past, current and future periods
• Lifetime amortization, accretion schedule for each bond



Available with a General Ledger and Reporting module ....
• General ledger reporting
- Subsidiary ledger balancing report
Detail and totals by each general ledger account for
- Premium and discount recognition
- Accumulated
- Remaining balance book values
- Journal voucher posting source document
- General ledger transaction posting file
- Formatted for uploading to your general ledger system

• Interest accruals at bond coupon rate:
- Monthly amount (book to receivable) or
- Gross accrual from an accrual date (for book and reverse operations)
- Accrual report, journal voucher posting source document and general ledger transaction posting file


• NET report - what did you earn on your portfolio?
Coupon interest for the period
+ Discount accretion
- Premium amortization
+ Gain on Sale
= NET result for each bond and entire portfolio



Your existing records
• Easy conversion ....
- Preserve current general ledger balances or
- Have the software recalculate premium and discount amortization from Begin dates.












Maintain bond records in one or more worksheets. At any time,
1) Import a worksheet
2) Select a calendar date and calculate
- Premium and discount recognition for an entire file
- Issue costs, fee recognition for an entire file
- FASB 91 effective rate, calculations and compliance
- Interest accruals
- All monthly accounting reports
- General ledger postings
Direct post and
Allocate to multiple cost and revenue centers
- Lifetime amortization schedule for any bond
- In a matter of seconds!



Getting started is easy.
No adjusting journal entry required.
Be up and running in no time.

Export calculation results and reports to Excel, other spreadsheet.
For internal use.
Email to outside auditors.

Records retention.
Export reports to a worksheet.
Or save bond worksheets with a unique monthly name.
Import, calculate, report at any future date.




During import, the software:
- Determines premium or discount amount
- Calculates effective interest rates
- Provides:
Monthly premium and discount amortization and accretion based on selected calendar date
For each record:
Monthly premium and discount recognition
Accumulated recognition
Deferred premium or discount balance
Book value carrying balance
Summary totals of the above by category:
Premium totals
Discount totals


You can also:
Generate amortized income and expense totals for a
Month
Quarter
Calendar or fiscal year
As of a prior or future period
View a lifetime month by month amortization and recognition schedule for any record
Copy and paste results elsewhere


More about bond accounting and reporting ....

All monthly reports:
View, print, export
Subsidiary listing trial balance by general ledger account
Detailed records plus accounting subtotals
Journal voucher
General ledger debit and credit posting summary recap

General ledger posting file preparation
Supports any chart of accounts

Issue costs - separate amortization for:
Issuance cost and charges
Acquisition fees
Other fees (and income) to be deferred but not included within premium and discount recognition
General ledger posting account numbers or system assigned defaults

Interest accruals
Calculate an accrual for the current month only or
Calculate a total accrued using an "accrue from" date
Supports accrue and accrual reversal functions
General ledger posting account numbers or system assigned defaults
Projections: Calculate interest accrual through end of year, other period

Early maturity, call date column
Take full premium and discount balances prior to scheduled maturity date
System automatically finalizes a record if redeemed early, sold, called or otherwise disposed

Par amortization for sinking fund, other tracking purposes
Monthly amortized recognition
General ledger posting account numbers or system assigned defaults
Accumulated
Par balance

Period calculations
Fiscal and calendar years
Determine all balances "as of" a future month, EOY period
Determine income, expense spanning multiple months

Allocation capabilities
Distribute income, expense to revenue and cost centers


Also available in a version where a file consists of
Bonds representing groups and packages (see our Omnibus software):
- Individual rates, composite, dollar weighted
- Mortgage backed securities
- LSBOs
Purchased loans
Participations
- Other packaged instruments
Held to term
Average life
- Amortizing
- Irregular principal receipts stream
Variable amounts
Curtailments, payoffs
Partial sales
- Weighted rate changes



FASB, GAAP

compliant
• Business
• Government
• Services
• Financial institutions
• Accounting firms
• Financial advisors




Monthly, annual reports


• Your records
• Client records
• Any month
• Any year




Special features


• Reports
View
Print
Archive
Export to Excel
• Audit year reconciliation
• 1-800 and email support


PC,
laptop,
workstation and
shared network devices
running Windows®





Client testimonials ....


Our outside accountants just completed their audit. This is the first year we've been using your software AND the first year we received a clean audit report.
Long Island, NY

Thanks for your help today. Your software is as advertised and will be most useful.
Houston, TX