LOAN FILES - deferred income and expense amortization software
Dealer fees, indirect lending page
MBS, LSBO, syndicated loan packages page



FASB 91 amortization for hundreds, thousands of loans with deferred fees from a

• Loan servicing system

• Core, in-house computer

• Service bureau

• Excel worksheet
Typically for smaller files, manually serviced loans, non-automated processing

• Other spreadsheets and file types

• Custom files and programming requirements



Amortize
• Fee income
• Points
• Discounts
• Expense
• Charges
• Indirect lending dealer fees
• Closing costs
• Premiums
• Other deferred items



Effective interest rate calculation for each loan



Recognition of deferred fee income and expense under FASB 91
• Current month
• Prior months and years
• Future months
• Annual projections



Detail schedules
• Month by month recognition for the life of a loan
• Support for auditor, examiner queries



Account for multiple fees
• Up to four (4) distinct fees per loan



Start amortizing "as of" whatever month you want
• Start "as of" now
Preserve your existing deferred fee income and expense general ledger balances
No adjusting journal entries
OR
• Start "as of" a prior month, prior year
Recalculate income, expense and deferral balances from a prior period forward



Accrual accounting - not a transaction based system
• Monthly fee recognition is tied to loan interest income
Interest received and
Interest accrued
Fee recognition occurs every month



Effective rate recalculation for rate changes



Accelerated recognition of deferral balance due to
• Principal reductions due to paydowns, curtailments
• Early payoffs



Loan file totals
• Total fee income - monthly and annual
• Total fee expense - monthly and annual
• Net: Income minus Expense



Subsidiary account balancing



General ledger
• Journal voucher
• Upload transaction posting file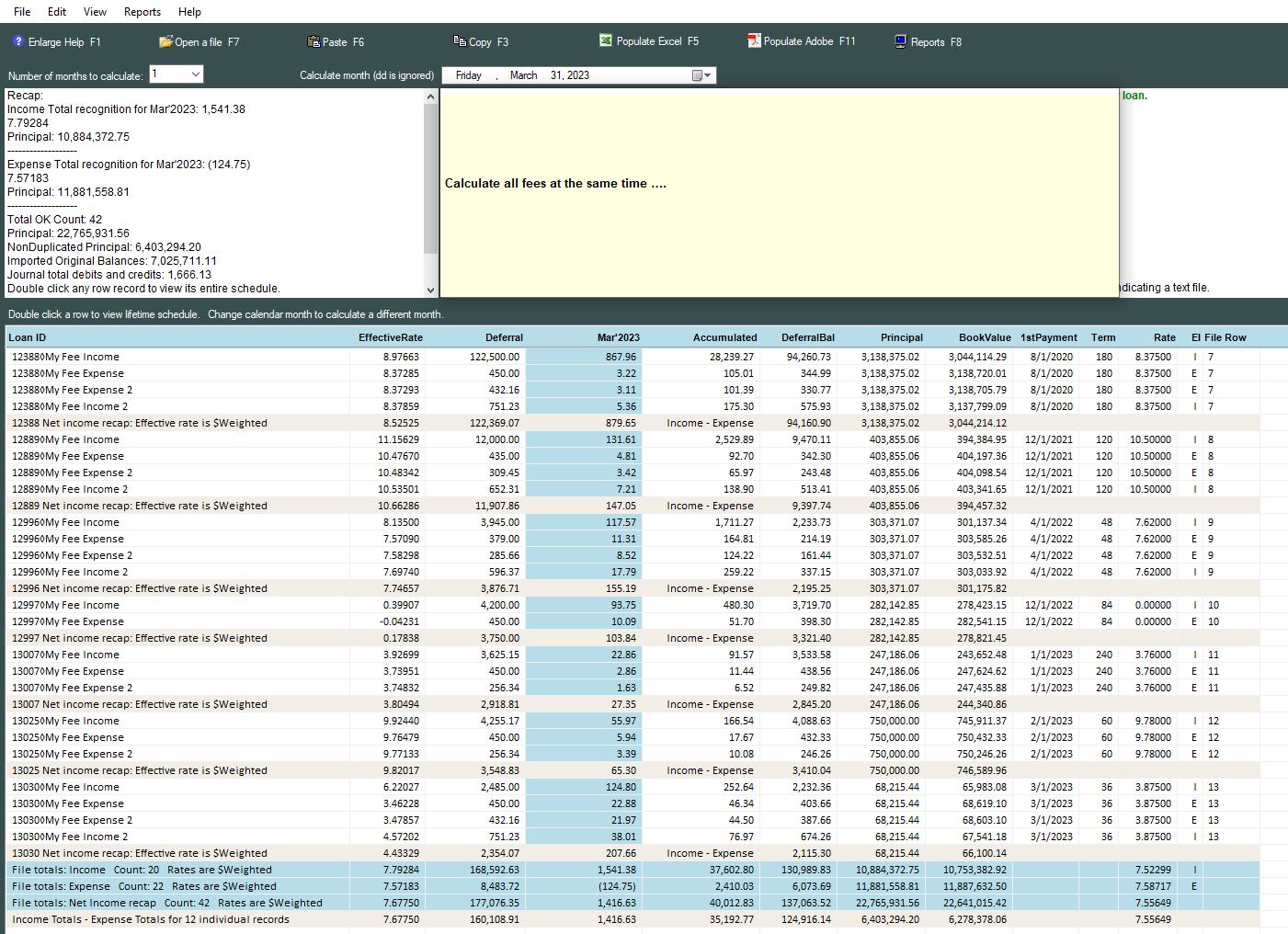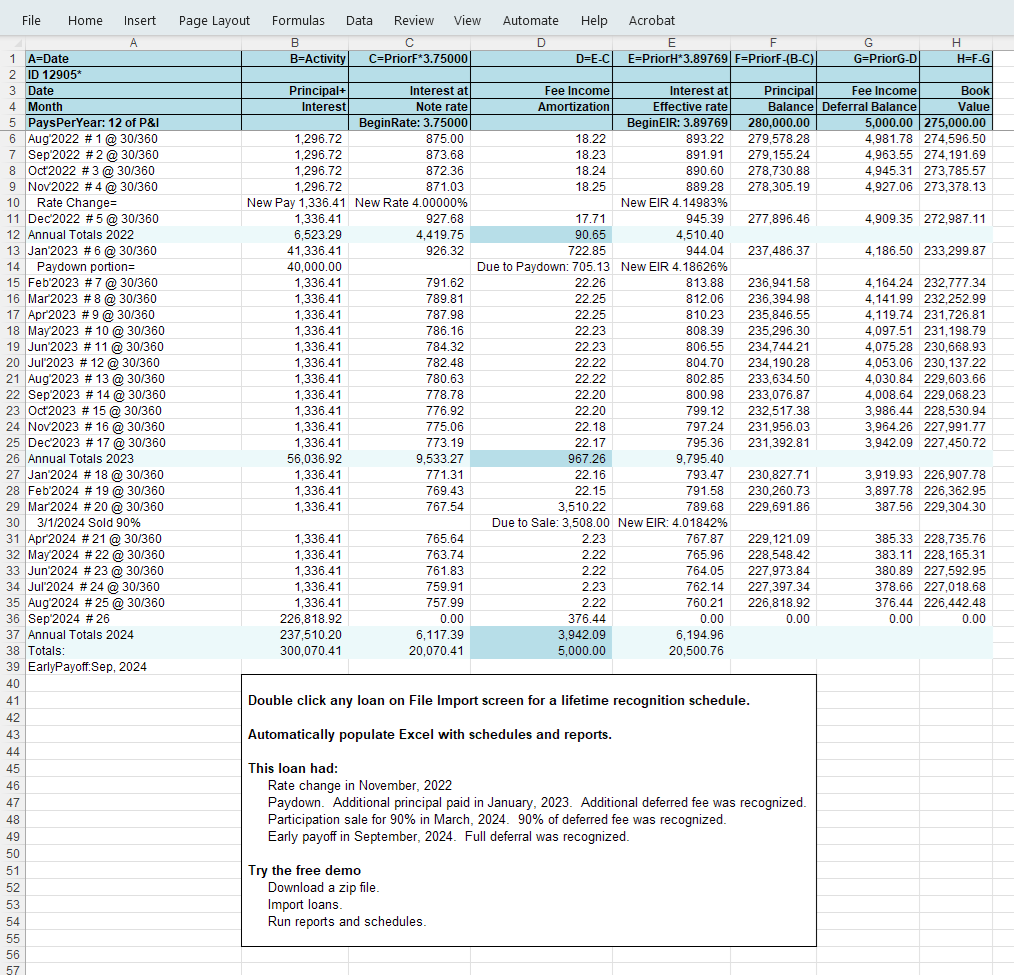 Need FASB 91 loan calculations NOW?

Don't have time to evaluate software?
But need fee amortization and reports?
• Income
• Expense
• Book values
• Totals
• For a month
• For an entire year
• Audit, regulatory support schedules

View our Loan file services page
Different options available without buying any software.
Calculate loans and get the reports you need. Today!


























Client testimonials ....


Thank you so much for your help.
It's so refreshing to talk to someone who understands!
California


I love your software and have had no issues.
Illinois


Our outside accountants just completed their audit.
This is the first year we've been using your software AND
the first year we received a clean audit report.
New York




We have been utilizing FDSSI software to the fullest and we are so excited that we have it to do the calculations for us!


Florida


I'm not technically inclined but was able to install your software without any problems.
Then I imported my loan file.
Your software performed all the calculations and totals we need in a matter of seconds.
I can't believe how much work it's going to save us each month.
Texas


A HUGE thank you for going the extra mile plus!!!!!!!
Minnesota


Thanks a lot!
This program has just made my life so much easier.
Georgia


Thanks.
Your customer service is fantastic!
Have a great week.
Washington













An affordable, proven system for small and large loan files


• Different versions to meet different operational needs

• Evaluate the software with your loans at no charge

• Qualified assistance regarding unusual requirements

• Software customization for unique needs

• FASB, GAAP compliance without spending a fortune








Amortize deferred income and expense for


• Mortgage loans

• Consumer loans

• Commercial loans, notes

• P&I amortizing loans

• Balloons as interest only with a balloon payment

• Balloons with partial P&I amortization at a longer term during the balloon term (supports average portfolio life fee amortization)

• Interest only loans

• Interest only with periodic constant amount reductions to principal such as scheduled quarterly principal repayments

• Fixed rate

• Zero rate (typically for amortizing up front leasing charges)

• Variable, adjustable rate
Effective rate recalculation with each rate change

• Interest calculations at 360, 365, 366 actual days, 365/360 ....

• Full recognition due to early payoff

• Paydown, curtailment accelerated fee recognition

• Effective interest rate recalculation due to paydown reduction








Complete monthly fee accounting and reporting for ....


• All monthly financial and accounting reports

• Subsidiary ledger listing with subtotals by general ledger account
P&L totals for each distinct fee
Balance sheet totals for each distinct fee

• Debit and credit column journal voucher

• General ledger posting file

• Complete monthly reporting and accounting in a matter of seconds

• Lifetime month by month amortization and fee recognition schedules for each loan

• View schedules and reports

• Send to local or network printer

• Export schedules and reports to Excel








Loan fee recognition and totals for


• Current month

• Current period ranging from 1 to 12 months

• Prior months

• Prior accounting and audit periods. Annual totals.

• Future months and period projections

• Calculate, recalculate a different period in seconds






• The software can amortize fees from original dates or

• Current general ledger and deferred fee balances can be preserved


























| | |
| --- | --- |
| | Price page and free trial system .... |




Click the link to open and view price page.


Free trial system available:
Evaluate the software with your loans at no charge.
Price page




We also offer file calculation services


Click this page link to learn more:
Loan file calculation services page


Other FASB 91 software ....
Loan packages, LSBO, MBS see this page
Purchased loans, also see this page
Loans tied to LIBOR, other indexes page
Merchant loans, daily cash advances page














Amortization terms:
Actual life of each loan
Average portfolio life
Other derived, modified terms
Calculate and aggregate monthly fee recognition to
Income
Expense
The software will calculate:
Hundreds of loans
Thousands
Hundreds of thousands of loans at the same time.

Early payoffs:
The software recognizes the remaining deferral amount.
Curtailment, paydown, other partial reductions to loan balance principal:
The software calculates a new effective interest rate.
The software accelerates fee recognition proportionate to the reduction.
Rate changes:
The software calculates a new effective interest rate.
The software calculates a new payment.
Generate fee income and expense totals:
For any month, year
For any calendar or fiscal entire year
For audit and examination periods
Loan ledger subsidiary account balance sheet report
General ledger upload posting file
Calculate from original loan dates or an "as of" begin date to preserve deferral balances from having used another process
Schedules: Automatic lifetime fee amortization schedule for any loan
Audits: Annual and other fiscal period reporting for audit and examinations
Customizing available for unique situations, new lending programs








Import all of your


• Existing loans with
Current balances and
Current rates
• New loans
• Early payoffs
• Sold loans, participations



Import file types


• .txt (Tab delimited. Other delimiters. Field position, fixed length.)
• .csv (comma delimited)
• .xlsx (Excel. Many loan servicing systems already support extracting or downloading a loan file to Excel.)
• Other type files. Flexible record layouts.



Modify a file


A "front end" module in the software allows for adjustments and customization, such as
• Set deferral amortization term to an average or experienced portfolio life instead of actual loan term
• Insert general ledger account numbers based on loan type or code
• Find values within a record layout - sixth data element imports as the required second element
• Change a value: Import file interest rate of .0375 to 3.75
• Other needs and requests



How it works


The software calculates effective interest rates and amortizes deferred fee income and expense under FASB 91.
Current principal balance for P&I amortizing loans is also calculated in order to determine loan interest income.
Fee income and expense is amortized regardless of whether a payment is actually received.
The software was designed for those on an accounting accrual basis:
Whether a payment has been made or not, loan interest income is earned and recognized each month.
As such, deferred loan fees should also be recognized (as opposed to recognition based on cash flow or transaction activity).



Changes


The software will automatically adjust for changes from a prior month to the current month.
• Different interest rate.
The system will calculate a new effective interest rate and, for amortizing loans
a new P&I payment using current balance, current rate and remaining term.
• Principal balance reduction other than through normal P&I amortization, such as paydown curtailments.
The system compares its amortized principal balance to the imported current balance.
If the imported balance is lower, the system recognizes the deferral by a proportionate amount
and begins utilizing the imported current loan balance. A new effective interest rate is also calculated due to a shorter payout term.
• New loans during the current month.
An effective interest rate will be calculated for each new loan.
• Paid off loans, sold loans, participations sold.
The system will recognize deferral balance in full or, for participation sold, a proportionate amount of the deferred fee.
• Loans which may have just "gone away".
Many times, paid off loans are purged from the servicing file only at year end.
Regardless of why a loan goes away, If any fee remains the system will recognize the deferral balance in full.



Records retention, audit and exam compliance


The software maintains a monthly Master File which will be saved for the current month.
Master Files are used for comparing an import file to the previous month's file status.
Master Files can also be imported at a future date to facilitate reporting for internal purposes, audits and exams.








Effective interest rate calculation and accounting for an entire loan file

• Fee income amortization

• Cost, expense amortization

• Portfolio totals in a matter of seconds
Total fee income
Total fee expense
For a month. Quarter. Calendar or fiscal year.
Current, past and future periods

• Detail audit schedules
Lifetime amortization and fee recognition schedule for any loan on demand

• Amortizing loans

• Interest only loans

• Balloon loans
Amortizing
Interest only

• Loan amortization periods
Recognize fees over the full term of the loan
Recognize fees over an average life
Amortize loans over an average life instead of a full term
Apply to some loans or all loans

• Zero interest rate
Some clients use this feature to amortize leasing fees

• No data maintenance or updating necessary

• Operates on
Original loan and deferral balances
Current loan and deferral balances

• Variable rates
Supports rate changes

• Principal paydowns, curtailments
Accelerated fee recognition due to paydown/curtailment/payoff


Currently using another method? Another system? No system?
The software can recalculate deferral balances for current and prior periods.
Or, the software can preserve your current deferral balances.
No general ledger adjustments necessary.
Request a free demo.
See how easy it is to amortize your own loan fees.



Flexible output ....
• View results on screen
• Send to local or network printer
• Copy and paste results to an Excel worksheet



Principal Balances
The system calculates the current principal balances for amortizing
loans "as of" the requested amortization month or period (for MBS, pooled loans, syndicated packages, view this page)



Effective interest rate
The system calculates an effective interest rate under FASB 91 for each loan and
calculates a new effective rate for a rate change


Fee income and expense amortization
• Individual loan level
• File totals by category
• Lifetime amortization schedule for a loan


General ledger posting
• Subsidiary reports
• Journal voucher posting source document
• General ledger upload posting file




CHANGES during term ....
Rate changes
• Supports interest rate changes
• Effective interest rate recalculation due to a rate change
• The software calculates the new payment

Paydowns
• Supports partial paydowns and curtailments
• Accelerated recognition of deferral corresponding to reduction of principal

Payoffs
• Supports early payoffs
• Recognize deferred fee balance in full
• For payoff, sale, or otherwise disposed


New and existing loans
• New loans: The system performs calculations using original loan information.
• Existing loans:
1) The system can "bring loans current" if original loan information is available.
Calculate a file for current and prior periods.
2) Or, the system can use current loan balances, current deferred fee balances and so forth.
The system can calculate a remaining term based on loan balance, rate and payment.


Amortize, recognize, account for and post
• Deferred loan fee income
• Cost, expense
• Finance charges
• Discounts and premiums
Interchange premiums and discounts with income and expense depending upon which they are to you



Methods
• Fixed rate
• Adjustable, variable rate (scheduled and "on demand" rate changes)
• Interest only
• Balloon term (can also be used as a portfolio average life term)
• Zero interest rate
• Non-amortizing loans (and loans with unscheduled or periodic principal reductions)



Unusual loans
• Loans your mainframe can't handle
• New products/loan offerings
• Unusual payback terms ....
The software can be modified to meet specific client needs



Leases, too
• Utilize balloon and non-amortizing features to amortize leasing fees over lease term.
• Accommodates both zero interest rate as well as lease payments incorporating an interest rate.



Generate recognition and accounting reports
• Amortization and accretion
• Subsidiary listing with detail and totals
Monthly recognition
Accumulated
Balances
• General ledger accounting
Journal voucher posting source document
General ledger transaction posting upload file



Types
• Residential mortgages with origination fee income and expense
• Commercial loans, paper
• Loan packages, purchased or sold
• Consumer loans, automobile, other vehicles
• Dealer fees, indirect lending costs
• Other conforming, non-conforming loans


Custom modifications
• Custom calculations and routines for new lending programs, unique situations ....

Many of our clients are
• CPA, accounting firms
• Auditors
• Asset management companies
• Financial advisors
View this page to see how they utilize the software
to calculate, audit or provide accounting services for client files





Simple to operate.
For monthly reporting:

1) Import a file

2) Calculate:
- Loan fee income and expense recognition for an entire file
- FASB 91 calculations and compliance
- All monthly accounting reports
- General ledger postings
- Lifetime amortization schedule for any loan
- In a matter of seconds!

Worksheets:
Enter loan data and fees.
Download loan data from a mainframe.

Export calculation results and reports to Excel.
For internal use.
Email to outside auditors.

Records retention.
Export reports to Excel.
Or save loan worksheets with a unique monthly name.
Import, calculate, report at any future date.






Download, automatically import loan files
to the software for FASB 91 fee amortization from
• Loan servicing systems
• Core processing mainframes
• Service bureaus
• "Off the books" manually serviced loans
• Other internal or external sources
including premiums and discounts for purchased loans, packages serviced by others






During import, the software:
Calculates effective interest rates
Provides:
Monthly fee income and costs amortization
Calendar date selection determines effective month.
For each record:
Monthly recognition
Accumulated
Deferral balance
Book value carrying balance
Summary totals of the above by category:
Fee income totals
Cost/expense totals

You can also:
Generate amortized income and expense totals for a
Month
Quarter
Calendar or fiscal year
As of a prior or future period
View a lifetime month by month amortization and fee recognition schedule for any record
Copy and paste results elsewhere

Paydowns:
Supports single or multiple paydowns.
Curtailments, paydowns, participation sales.
Put date and paydown amount in the file.
The system will automatically accelerate deferred fee recognition for the paydown amount.
A percentage of the paydown/loan balance will be used to recognize that portion of the deferral.
A new effective interest rate will be calculated based on the new remaining term.
Accepts multiple paydowns for the same loan.
Including separate, multiple paydowns in the same month.
Log paydowns 2 ways (or use both):
Immediately following a loan number row.
Grouped together within a "Changes" section.

Payoffs:
Early payoff date column to recognize in full prior to end of anticipated term.

Rate changes:
The software supports one rate adjustment.
It also supports multiple rate changes.
Put new rate and effective date in the file.
Enter as many changes as occur.
The system calculates a new payment and recalculates the effective interest rate.
Log rate changes 2 ways (or use both):
Immediately following a loan number row.
Grouped together within a "Changes" section.

Loan types
- Fixed rate
- Adjustable
- Amortizing
- Interest only
- Balloon
- Zero interest
- Non-amortizing

Payment frequencies
- Monthly
- Quarterly
- Semi-annual and annual





Calculations
• FASB 91 Effective interest rate
• Deferral amortization recognition
- Fee income
- Fee expense, cost
- Net of both when applicable
- For loan term or average life
• All monthly accounting reports
• GAAP, FASB compliant

Calculate deferral recognition and balances as of:
• Current month
• Prior month
• Prior year end (fiscal or calendar)
• Future month or year end
• Range of future months for annual budget/forecasting

Reports:
Trial Balance subsidiary ledger report
Detail and totals for
• Income
• Expense
• Accumulated
• Deferral balance
• Carrying amount (Accretion balance)
• Totals by category or general ledger account numbers

General ledger
• Journal Voucher posting source document
• Upload posting file
• Direct post to any chart of accounts
• Allocate selected or all recognition to revenue and cost centers

FASB 91 detail schedules
• Lifetime effective interest method amortization for each record





Available for
1) Loans at the individual loan level:
- Fixed rate, adjustable, amortizing, interest only (non amortizing) and balloon loans
- Monthly, quarterly, semi-annual and annual payment frequencies
- Mortgages
- Dealer fees, holdbacks, indirect auto lending expense
- P&I amortizing loans
- Balloon
- Interest only
- Average life term
- Callable

2) Groups and packages (fees treated as premium or discount using our Omnibus software):
- Individual rates, composite, dollar weighted
- Mortgage backed securities
- LSBOs
Purchased loans
Participations
- Other packaged loans
Held to term
Average life
- Amortizing
- Irregular principal receipts stream
Variable amounts
Curtailments, payoffs
Partial sales
- Weighted rate changes
- Interest only
- Monthly bulk origination, aggregate